I stumbled across a tiny, eeny, meeny, miny, moe drone, the Eachine E011. It's a $15 drone including transmitter. It's rock solid. Believe me. Don't look any further, this baby ist powerful and fun. You don't need any more cheap drones. This is it. Doubledownperoidnow.
As banggood sounds so well, I decided to order more ultimatively necessary stuff from them starting with FPV goods. As besides the flying object, FPV needs a camera,  surprise, surprise, I bought some cameras with them good bangers off coast.
FPV means that you wear goggles and you can see what the camera, which is mounted on your drone, can see. It feels like piloting. And it hasn't to be expensive.Did I say fascinating?
Below you find a selection of cameras for the E011 and similar toys. As those cameras combine a video camera and a video sending transmitter, they only need power to operate. So easy. And cheap. Sub $20.
Eachine EF-02 AIO 5.8G 40CH 25MW VTX 800TVL 1/3 Cmos FPV Camera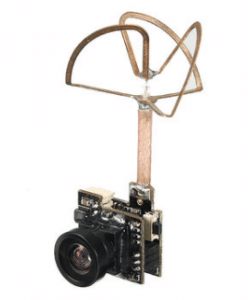 This cam is perfect. It has no display but is easy to setup using a button and LED. It has a nice video picture that allows to see well where you are going. As you can unplug the wire from the cam it's also easy to solder. I am installing this cam on all of my E011. No more camera games.
Eachine TX03 NTSC Super Mini 0/25mW/50mW/200mW Switchable 5.8G 72CH VTX 600TVL 1/3 CMOS FPV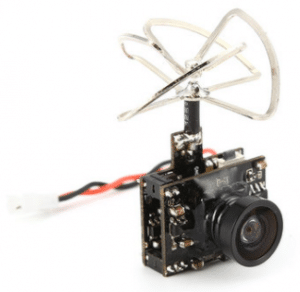 This would be the perfect cam: switchable power (if allowed in your country), LED display for channel, nice video resolution but my FatShark only receives b/w video feed most of the time. I don't have a clue on how to fix this. Disappointed. Did I really say "would be"?
Eachine QX95 QX90 QX90C Micro Racing Quadcopter 32CH VTX 520TVL CMOS 1/4 Camera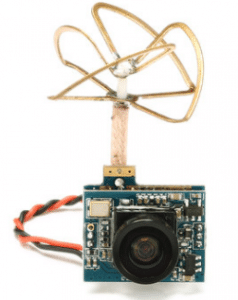 Rather expensive and stupid dip switches. It also has only 520TVL, I can't remember why I put this into my bangbag. I never tried it out. That's why I don't put a link so you will not buy it.
---
Now comes to easy part: Soldering the cam to the power of the drones is easy, see youtube for instructions. It can take up to 5 minutes, so make sure your fridge is closed, your wife has gone bowling and your dog is fed as you need a steady hand.
---
All that fuzz but what about FPV now?
I almost forgot. The goggles. The receiver. The annoying part. Stupidly expensive if bought from Fatshark.  So I then setup a Fatshark HD v3 using a Furious True-D V3.5 Diversity Receiver.
Check out my video that I recorded using the built in recorder of the Fatshark. The sound is not from the flight though.
I am waiting for Eachine Goggles but they didn't arrive yet. Maybe they can get a color picture of my would-be-favorite-cam.